Oreo TV Spot, 'Play With Oreo' is a 2015 Oreo TV Spot. It was last played on Mar 16, 2015 at 3:54 AM on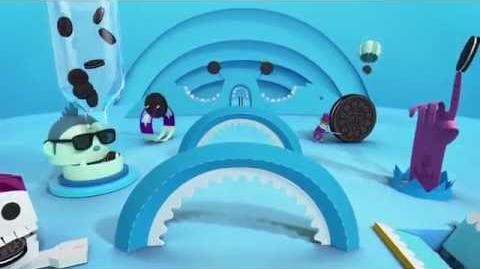 HGTV during Beachfront Bargain Hunt.
Description
Edit
Enjoy a wonderland wonderfilled with animated roller skates, launches to the moon and unbelievably tall stacks of Oreos! Grab a cookie and start your adventure today.
(From iSpot.tv)
The song was performed by Yelle.
Show me how you
Twist it, Lick it, Dunk it, Munch it
Tell me how to
Roll it, Stack it, Flip it, Crunch it
Show me how you
Snack it, Pack it, Crack it, Creme it
Tell me how to
Share it, Dip it, Dare it, Dream it
It's an Oreo and you can eat it any way
If you want it, you can do it different every single day
HEY!
It's so easy to let your imagination go
When you play with Oreo!
Ad blocker interference detected!
Wikia is a free-to-use site that makes money from advertising. We have a modified experience for viewers using ad blockers

Wikia is not accessible if you've made further modifications. Remove the custom ad blocker rule(s) and the page will load as expected.