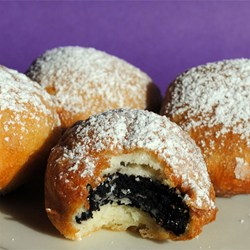 A Deep Fried Oreo are a deep fried dessert that consist of an oreo which is dipped in batter and deep fried hence it's name.
Directions/Instructions
Edit
Heat oil in deep-fryer to 375 degrees F (190 degrees C).
Whisk together the egg, milk, and 2 teaspoons of vegetable oil in a bowl until smooth. Stir in the pancake mix until no dry lumps remain. Dip the cookies into the batter one at a time, and carefully place into the hot frying oil.
Ad blocker interference detected!
Wikia is a free-to-use site that makes money from advertising. We have a modified experience for viewers using ad blockers

Wikia is not accessible if you've made further modifications. Remove the custom ad blocker rule(s) and the page will load as expected.